The New York Times – Intimate Escapes, for a Few Hours, in Brazil's Love Motels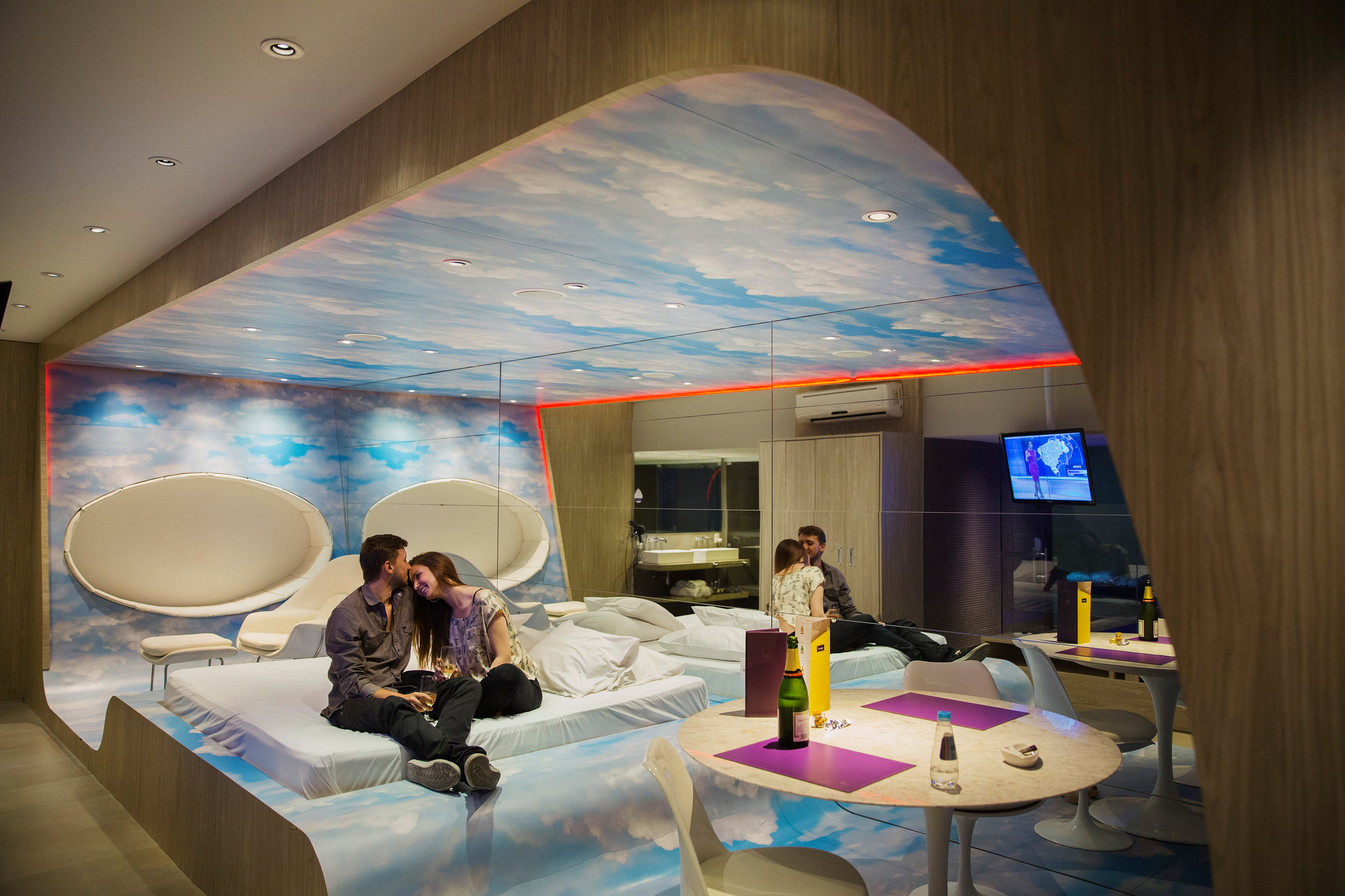 SÃO PAULO, Brazil — Drive through the sprawl of any big Brazilian city and there they are, the short-stay love motels beckoning with their neon lights and names like Magnata and Taj Mahal. Some resemble colossal medieval fortresses for trysts. Others evoke ancient Egypt's Pharaonic excesses.
But such garden-variety ostentation is so yesterday.
The pleasure palaces now surfacing offer services like helicopter rides above this megacity of 20 million. In suites at certain motels, guests slither through water slides that empty into heated private plunge pools.
Other suites that can be rented for a few hours include dinners prepared by prizewinning chefs, private D.J.s or 4-D movies on an undulating sofa.
"The clients of the best Brazilian motels now demand an experience going well beyond finding a discreet place to have sex," said Flávio Monteiro, the director of Apple Motel, which recently opened where another motel, the Roma In Ville, once welcomed guests with statues evoking a Roman bacchanal.
"The statues just weren't doing it for us," said Mr. Monteiro, whose team redesigned the site to vaguely resemble, at least on the outside, an Apple Store — if an Apple Store had tinted windows that shifted in color from red to blue to green. But once inside, clients unwind in suites with waterfalls cascading into private pools. "We offer something more sublime," he added.
Cherished by many, frowned upon by others, love motels have long had a special place in Latin America's largest country. Thought to have been inspired initially by American-style motels, the Brazilian roadside variety developed as places where couples could meet for a secret rendezvous, an escape from cramped living arrangements or just to spice things up a bit.
The Brazilian Association of Motels says the market is so popular and competitive that there are about 5,000 love motels nationwide — 300 in São Paulo alone. Owners face constant pressure to roll out new features for an exacting clientele.
"I prefer motels that innovate with standards of good taste," said Vanessa Antolinez, 36, an interior designer who is a regular client, together with her husband, of Acaso Motel, where suites go for about $120 for a stay of a few hours. Features include a punching bag to let off steam, entrees like lamb with Dijon mustard and a Japanese-style ofuro bath.
"Sometimes you need some privacy and a break from the routine," Ms. Antolinez said. "But you also need something classy."
Like many other Brazilian enterprises, the motels are grappling with the country's economic crisis. But some owners, especially those at the high end of the spectrum, say business is resilient, possibly because the sharp devaluation of Brazil's currency is making vacations abroad costlier, encouraging some to splurge on diversions at home.
"Many people prefer to cut other costs before deciding whether to go without regular visits to a motel," said Felipe Martinez, 32, a director of Lush, a newly refurbished motel that offers clients a 30-minute helicopter ride for about $350 and a one-hour jaunt in a Ferrari for about $400.
On an avenue lined with a large mosque, abandoned factories and Brutalist office buildings, Lush rents suites ranging from about $85 for a three-hour stay to $120 for the whole night. (By comparison, Hotel Unique, a 95-room luxury hotel here designed to look like the hull of a ship, charges about $330 a night.)
The wild-blue-yonder wallpaper in one of Lush's suites seems inspired by the surrealist paintings of Salvador Dalí. In another suite, the curvaceous bed evokes science-fiction sleep chambers. Lush's owners also hired the street artist Raquel Brust, who produces photographs printed in huge dimensions, to give some of the suites an edgy, urban aesthetic.
Like its counterparts in the no-tell industry, Lush prizes privacy. Indeed, such an emphasis is placed on discretion that the one human the motel's clients encounter inside the establishment is a receptionist who greets them at the front gate and accepts their payment upon exiting. Private parking garages connected to each suite shield the occupants' identities.
Dishes on the extensive menu, which include salmon in green curry sauce and shrimp in a purée of coconut milk and manioc meal, are ordered by telephone and discreetly served through a dumbwaiter. Hotel employees use the same method to deliver other items on the menu, including caipirinhas, malbecs from Lush's wine cellar, condoms and a variety of sex toys.
"The food is exquisite, and the setting is impeccable," said Thays Maroni, 22, a high school English teacher who regularly splurges on stays at Lush with her boyfriend, Iberê Balbeck, a 23-year-old who lives with his parents while studying to be a helicopter pilot. "This is where we come for a little privacy. Someday I'll surprise Iberê with the ride in a Ferrari."
Scholars who study motels say that their use varies widely, with weekdays often involving secret affairs or appointments with prostitutes (prostitution is legal in Brazil), and weekends favored by couples who are in long-term relationships or who are married.
The motel industry in São Paulo caters to a broad array of personal interests. The Motel Classe A, for instance, offers a suite decorated for fans of the Corinthians soccer club, and another for devotees of the book "50 Shades of Grey." Suites at Snob's Motel seem to aspire to cosmopolitanism, with names after cities like Dubai, Moscow and, yes, Las Vegas. A suite at the Motel Riviera is designed to appear as if the client were lounging near a yacht anchored in the Mediterranean.
But such flourishes seem old-school, or merely unambitious, compared with the over-the-top approach at places like the Harmony Motel.
Its Nagoya suite has a bar with draft beer, a barbecue to grill cuts of sirloin, a pole-dancing stage, a lounge for playing Xbox, pinball machines, a sunroof, a pool table, an aquarium stocked with huge freshwater fish like the pirarucu and the dog-eating catfish, and a king-size bed decorated with rose petals.
The hotel also reminds clients that more than 100 people can squeeze into the suite if guests want to host a party. A stay in the duplex suite for a couple starts at about $100 for a few hours; the cost rises with the length of stay and the number of guests.
"Motels in Brazil are like the Disneyland of sex," said Dinah Guimaraens, an anthropologist and architect who has written widely about Brazilian motels. "They provide a combination of entertainment, fantasy and escapism, allowing the middle class to feel powerful for a few fleeting moments."
Paula Moura contributed reporting.
A version of this article appears in print on Sept. 24, 2015, on Page A6 of the New York edition with the headline: Beyond Beds: Love Motels Add Ferraris and Top Chefs.